Done! 224 QST's made and waiting to find their place in this quilt!
Isn't this the prettiest 'mess' you ever did see? I loev these colors together. These are the trimmings from my QST's...and NO...I didn't save them.
I shifted gears from my original color scheme. These are the colors I am now using.
I think I will like this color scheme better than the white originally planned in place of the red.
Also, I went with fabrics that read more 'solid' for my teals, pinks and browns.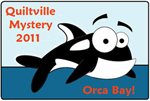 To follow along and make your own Orca Bay quilt...read here!